Turnkey Laser Welding Solutions
Standard and custom turnkey solutions. Open frame Class IV systems for large and small mold repair and fully enclosed Class I systems for manual and automatic welding operations available.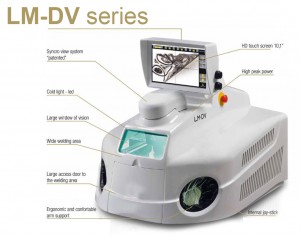 Bench top laser welding workstations. Features touch screen color display, user friendly software and operator interface, memory for 250 welding parameters, internal joystick control of welding parameters, stereo microscope, air and gas nozzles, & integrated cooling system.
The system is available with three laser power choices, 60, 80 or 85 Watts. The Large touch screen display has patent pending technology to ease eye strain for the operator. Read More…
Automatic Laser Welding Sources

Flexible design intended for integration. Robust fiber optic beam delivery system. Easy and intuitive remote color touch screen display. LNA's new quasi continuous wave (QCW) fiber lasers are ideal for spot welding, seam welding & drilling in the long pulse operation mode. These air-cooled, compact units are substantially more cost-effective than conventional YAG lasers due partly to >30% wall-plug efficiencies and maintenance-free operation.

E-Mail: info@lnalaser.com
Phone: (401) 724-0076
About Us
LNA was established as a pioneer in the introduction of industrial grade Solid State Diode Laser technology for manufacturing. With over 15 years experience, LNA has since been dedicated to supplying cutting edge laser technology (fiber and diode), and support throughout the Americas and internationally. LNA laser applications include marking, cutting, welding and more for all manufacturing industries.
Industries Served
-Automotive Mfg
-Aerospace Mfg
-Medical Device Mfg
-Electronics Mfg
-Semiconductor Mfg
-General Industrial Mfg
-Jewelry Mfg
-Firearms Mfg
-Secure ID/Financial Card Mfg