LNA Laser Installs Laser Marking Systems at Avedis Zildjian Co.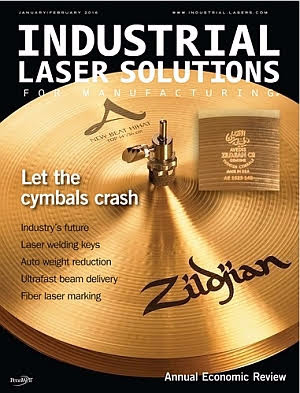 Avedis Zildjian Company recently installed LNA Laser marking systems in the company's Norwell, MA factory. Zildjian is the world's oldest cymbal manufacturer and one of the oldest family owned businesses in the United States. According to Paul Struble, Vice President of Operations, "We took a number of cymbals and visited LNA Laser's application lab. Literally within one hour they uploaded our graphics, optimized the laser marking parameters and were producing laser marks with exceptional quality. With the LNA software, we could do one pass, two passes, fill in void areas – we could do anything and everything. We purchased two complete, turn-key fiber laser marking systems from LNA. The installation and integration with our robotic automation was really fast and easy. We were back in production after only four hours. LNA's software was fully customizable for our needs."A simple user interface was created to limit operator time and potential for error. The interface allows the operator to scan a barcode; containing lot number, job number and serial number and load the appropriate marking file template from a central database. Additionally, the LNA software automatically increments the serial number after each marking cycle…

To read the full article: Lasers ring true with leading cymbal manufacturer
LNA adds new MOPA (Master Oscillator Power Amplifier) series laser marking product line
In addition to LNA's LASF series industrial line of pulsed fiber laser marking systems, we are excited to introduce the addition of our new LASF-M series MOPA fiber laser marker product line. Offering the same performance as our industry benchmark LASF series, the LASF-M offers a wide range of pulse width settings in order to meet the needs of specific material and marking application requirements such as some plastics, copper and more. The LASF-M series MOPA Fiber Laser Markers are offered in 10, 20 and 30 watt models.
US Secretary of Labor Tom Perez visits LNA Laser Technology
US Representitive David Cicilline hosted U.S. Secretary of Labor Tom Perez at LNA Laser & Gold Machinery's facility in Pawtucket, RI on Friday, April 24th for a roundtable discussion on paid leave, part of the #LeadOnLeave tour.Also in attendance was US Senator Jack Reed, Congressman Jim Langevin, RI State Senator Gayle Goldin, RI Dept. of Labor & Training Director Scott Jense, Rhode Island AFL-CIO President George Nee and District 1199 SEIU Executive Vice President Patrick Quinn.LNA Laser President Dan Gold gave a tour of the facility to Secretary Perez and the other Congressional Guests. He also spoke about the state and local economy and answered questions.Click here to read more
RI's LNA Laser Visit by Sen. Jack Reed, Pawt. Mayor Grebien, Secretary of State Gorbea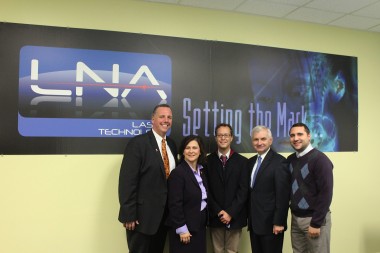 LNA Laser Technology in Pawtucket, RI was visited in October 2014 by Senator Jack Reed, Secretary of State Nellie Gorbea, Pawtucket Mayor Don Grebien, and Representative Carlos Tobon, seen photographed with LNA Laser President Daniel R. Gold.
Canadian Industrial Machinery: Setting The Mark
Laser marking technology offers typically desired process benefits of high speed, high contrast, permanent markings, flexible integration, flexibility for part variations such as curved or non-uniform surfaces, non-contact, high quality and essentially maintenance free. Laser marking and engraving is one of the largest laser application segments in terms of units sold to manufacturing industries worldwide. Almost all items manufactured today need to be marked for traceability or branding, and the process is used across a range of industries: medical device, automotive, aerospace, defense, electronics, semiconductor, industrial tools, firearms, secure ID such as drivers' licenses and passports, and jewelry.Full Article Link
LASER MARKING FOR ID AND TRACEABILITY WITHIN THE MEDICAL INDUSTRY
The use of lasers to mark surgical instruments has become of greater significance, however, the parameters used in these applications are not always fully appreciated. The medical industry, in particular, has utilized laser technology primarily to mark, weld, and cut medical devices for years. Lasers address the need for microscopic applications: to cut widths measurable in microns, spot welds with heat affected zones barely visible to the unaided eye, and highly resolved biocompatible markings that enable traceability of instruments and implants. In common with other industries, medical devices and pharmaceutical businesses turn to lasers for a one-step, fast, flexible, permanent, and a highly automated marking process…. Read More
Marking and Engraving when less is more
Marking lasers are now a fundamental tool in most manufacuring industries, CO2 lasers are typically employed when simple thermal continuous wave interaction between laser and material to be marked is required… Read More
Color Marking
High-contrast and decorative effects can be achieved in color on plastics and metals using Nd:YAG or Nd:YVO4 laser… Read More