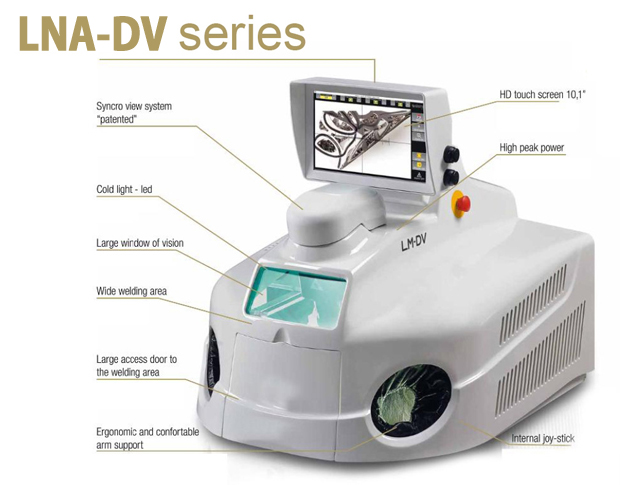 LNA-DV Tabletop Laser Welding System
The LNA-DV is a compact and powerful laser welding system.  The large 10″ high definition touch screen eliminates eye strain for the user.  The flash lamp pumped Nd:YAG laser is available with three average power levels – 60W, 80W or 85W. The pulse duration is adjustable from 0.3-30ms and pulse repetition rates up to 50Hz.  The system is virtually maintenance free and comes with a 2 year warranty which includes the flash lamp.
TECHNICAL DATA
LNA-DV 60
LNA-DV 100
LNA-DV 130
Average power
60W
80W
85W
Peak pulse power
7,5Kw
9Kw
10,5Kw
Pulse energy
90J
110J
130J
Pulse duration
0,3-30 ms
Pulse frequency
0-50 Hz
Welding spot diameter
0,2-2 mm (0,1 m optional)
Focus adjustment
Motorized
Pulse Shape
8 pre-set
Programming memory
Up to 250
Vision system
Touchscreen 10,1° + HD camera
Chamber illumination
LED
Cooling
Water/Air
Fume extraction
Integrated
Power supply
230 V 50/60 Hz 1Ph
Dimensions (W x D x H)
54 x 69 x60 cm
Weight
50 Kg

E-Mail: info@lnalaser.com
Phone: (401) 724-0076
About Us
LNA was established as a pioneer in the introduction of industrial grade Solid State Diode Laser technology for manufacturing. With over 15 years experience, LNA has since been dedicated to supplying cutting edge laser technology (fiber and diode), and support throughout the Americas and internationally. LNA laser applications include marking, cutting, welding and more for all manufacturing industries.
Industries Served
-Automotive Mfg
-Aerospace Mfg
-Medical Device Mfg
-Electronics Mfg
-Semiconductor Mfg
-General Industrial Mfg
-Jewelry Mfg
-Firearms Mfg
-Secure ID/Financial Card Mfg