LNA Laser is pleased to announce our latest laser etching and laser engraving system, The LAS-CO2. CO2 lasers are the laser of choice for marking organic materials such as, wood, leather, cardboard and other packaging materials, coated metals, glass and many plastics. The LAS-CO2 is an industrially designed system in an all-in-one aluminum and steel package. It includes a 30 Watt air-cooled sealed laser source, integrated control hardware, power supplies, beam delivery optics, red aiming beam and high speed, high precision galvo scanning head.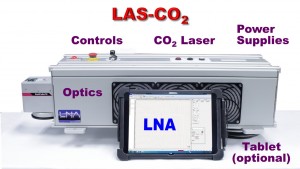 The LNA marking software is intuitive with a powerful variety of features. You can import a wide range of image files-vector or raster. It has its own text editor and the ability to generate one-D or two-D barcodes with serialization. The system can be manually operated or integrated into factory controls through, serial, digital I/O or PLC.
The LAS-CO2 is incredibly fast, marking over 100,000 decorative marks per hour in the packaging industry.
| | |
| --- | --- |
| Parameter | Specification |
| Wavelength | 10.6 µm |
| Optical Output Power | 30 Watts |
| Power Stability | ±5% |
| Mode Quality (M2) | <1.2 |
| Beam Size | 1.8 mm |
| Beam Divergence | 7.5 mrad |
| Polarization | >100 to 1 |
| Operating Frequency | 0 to 25 kHz |
| Duty Cycle | 0 to 100% DC |
| Cooling | Air |