Canadian Industrial Machinery: Setting The Mark
Laser marking technology offers typically desired process benefits of high speed, high contrast, permanent markings, flexible integration, flexibility for part variations such as curved or non-uniform surfaces, non-contact, high quality and essentially maintenance free.

Laser marking and engraving is one of the largest laser application segments in terms of units sold to manufacturing industries worldwide. Almost all items manufactured today need to be marked for traceability or branding, and the process is used across a range of industries: medical device, automotive, aerospace, defense, electronics, semiconductor, industrial tools, firearms, secure ID such as drivers' licenses and passports, and jewelry.
LNA Laser on Display at IMTS (International Machine Tool Show) Sept 2014 Chicago, IL USA - Booth #N-6322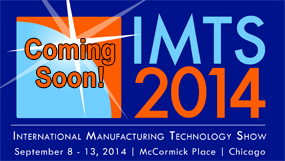 We are extremely encouraged by the positive global manufacturing outlook and that many companies are investing again in growth. LNA specializes in turnkey and OEM laser solutions for manufacturing. Applications include laser marking / traceability, cutting and welding.We look forward to seeing you at the International Machine Tool Show in September 2014 to work with you towards the best solution for your laser processing needs.
FABTECH 2013 SME Booth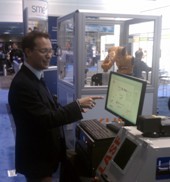 In addition to spending time in the Industrial Laser Solutions booth, I also spent time in the main SME booth. The SME is one of the organizing entities of Fabtech, and its booth is also front and center so that anyone entering the North Hall pretty much has to pass by it. The photo above shows one of the hardest working guys at the show: Dan Gold from LNA Laser in Rhode Island. Dan had a fiber laser marking system in the SME booth, and I do not recall a time when there was not a line of people waiting to have their name marked on an LED flashlight, bottle opener, or some other give away….. Read More
LNA Laser on Display at IMTS (International Machine Tool Show) Sept 2012 Chicago, IL USA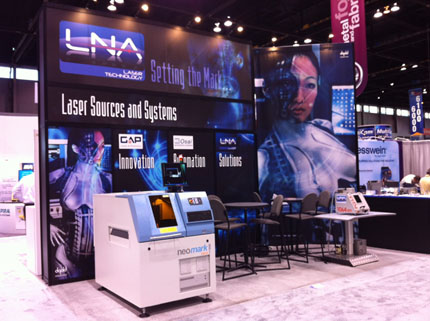 LASER MARKING FOR ID AND TRACEABILITY WITHIN THE MEDICAL INDUSTRY
The use of lasers to mark surgical instruments has become of greater significance, however, the parameters used in these applications are not always fully appreciated. The medical industry, in particular, has utilized laser technology primarily to mark, weld, and cut medical devices for years. Lasers address the need for microscopic applications: to cut widths measurable in microns, spot welds with heat affected zones barely visible to the unaided eye, and highly resolved biocompatible markings that enable traceability of instruments and implants. In common with other industries, medical devices and pharmaceutical businesses turn to lasers for a one-step, fast, flexible, permanent, and a highly automated marking process…. Read More
Marking and Engraving when less is more
Marking lasers are now a fundamental tool in most manufacuring industries, CO2 lasers are typically employed when simple thermal continuous wave interaction between laser and material to be marked is required… Read More
Color Marking
High-contrast and decorative effects can be achieved in color on plastics and metals using Nd:YAG or Nd:YVO4 laser… Read More